Peacetown: Tom Rigney & Flambeau, Marshall House, Gabe Wheaton and more
Jul 28, 2021 4:30 pm
Barlow Event Center
Free
All of Sebastopol becomes Peacetown, USA, every Wednesday evening from 4:30-7:30 from July 7 to September 8, 4:30-7:30 pm. This year, Peacetown is a multi- stage event, mostly centered around venues at the Barlow, but all of downtown is getting into the act. Peacetown festival goers can enjoy the many art galleries, including the world class Sebastopol Center for the Arts, take a walk at the the Laguna de Santa Rosa (right next to the Barlow), visit Patrick Amiot's sculptures on Florence Avenue,  or enjoy at movie at  Rialto Theatre.  Peacetown has morphed into a festival celebrating music, art, fine food, nature and our rich, diverse culture — and, as always, admission is always free!
Here's the line-up for July 28:
Barlow Event Center: Tom Rigney & Flambeau

Tom Rigney has been a part of the San Francisco Bay Area roots music scene for more than thirty-five years. In 2000, after fifteen years as the leader and electrifying violinist of The Sundogs, fiddler/composer Tom Rigney stepped out on his own with a hot new band, Flambeau. The repertoire is original, eclectic, passionate, and filled with a musical and emotional intensity that will come as no surprise to followers of Rigney's career.
Crooked Goat Brewing Stage: Marshall House
Woodfour/Fern Bar stage: Gabe Wheaton
Gabriel Wheaton brings a fiery, expressive voice and improvisational mastery to folk, classical, pop, bluegrass, Latin, hip-hop, EDM, gypsy jazz and more
Community Market Stage: Kevin Russell & Joe Craven
HopMonk: Jon Gonzales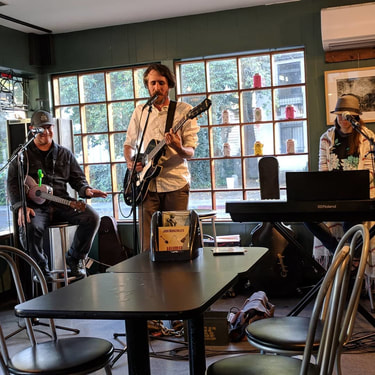 Ukulele-strumming North Bay area artist Jon Gonzales weaves ukulele folk-hooks with lyrical psychedelic satire and "pushing-the-envelope" paradoxical, universal subjects.
Sign up here: https://www.peacetown.org/2021-summer-celebration